【Report】【2016 August】Report of two events for elementary school children in August, 2016.
① "Let's explore the world." August 1st 
This half day program for elementary children gave the children a great chance to know about the world by playing games in this program.
We displayed some clothes and sundries from Africa, Asia, south and Central America. Seven staff members, who had stayed in a foreign country, introduced their own experiences, the local languages, dance, clothes, and original customs.
The children tried to introduce themselves in a different language. Then we looked on a world map to find a special feature of the land and area.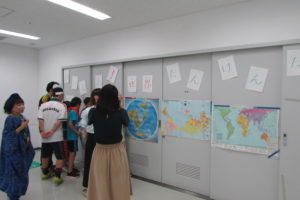 In the first session of this program, the children learned national flags and where each country is located. In the second session, they learned several different cultures.
At the end, they each made their own poster with pictures, a national flag, and some information to show what they had just learned from this program.
The questionnaire showed us that most of the children enjoyed this program and got a great chance to embark on learning more about the world.
② "Let's visit the embassy of Jamaica!" August 24th
"Visiting an embassy" is our customary event for the school children.
15 of us visited the Jamaican Embassy this summer.  Our group consisted of 10 children, 3 staff members from the international center, and 2 students from Meikai University. We took a train from Shin-Urayasu Sta. to Kamiyacho Sta. then we walked for about 10 minutes to the Embassy, which is located on the second floor in one of the business buildings.
While we were waiting in a lobby, we had a chance to see many original products from Jamaica, such as rum, coffee beans, leaf tobacco, and bamboo works. There was also a mosquito repellent candle which smells like coffee. That was very interesting for the children.
At our appointment time, the embassy staff led us to a room where they served juice and cookies to the children. Then they introduced the first secretary, Ms. Bent, to us. We watched a 3D video showing Jamaica, then Ms. Bent gave us a presentation about Jamaica. She let the children stop anytime when they had a question while she was talking. The Children had many questions, and she kindly answered all those questions, making this visit longer than we planned.
At last, Ms. Bent gave each child a big hug, and we all showed her our appreciation for her presentation, and her kindness towards our group.
1,372 total views, 3 views today