浦安市国際センターでは、6月1日(月)より、
市内在住の外国人の方々の生活等に関する相談窓口を開設しました。
生活に関することで困ったことを無料で相談できます。
Urayasu International Center has started opening
Foreign Residents Advisory Corner from June.1st, 2020.
If you need some help, you can ask for information for free.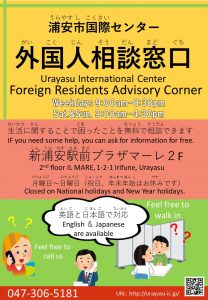 相談は、下記の電話または、国際センター窓口にて実施致します。
対応言語は基本的に英語・日本語の他、
翻訳機を活用し、多くの言語に対応致します。
If you want to get advise,
please call the number below or come to the center.
Supported languages are English and Japanese especially on the phone,
and other kinds of language by using the translator device.
受付時間は以下のとおりです。
・月~金 9:00~20:30(最終受付)
・土・日 9:00~16:30(最終受付)
※祝日/年末年始(12月29日~1月3日)は休み
Reception hours:
・Monday ~ Friday 9:00~20:30(Last call)
・Saturday and Sunday 9:00~20:30(Last call)
※Closing: Public holiday and end of the year and new year (Dec. 29th ~ Jan. 3rd).
電話番号 / TEL:047-306-5181
注意:問題を解決する窓口ではありません。
Note: This advisory corner do not to solve the problem.
3,884 total views, 7 views today