About Novel Coronavirus Vaccination
Reservations at Mass Vaccination Sites will be closed on Oct 8.
Urayasu City will gradually end COVID-19 mass vaccinations.
The first shot of the vaccine at mass vaccination site will be offered until Oct 10 (Sun.). 
If you have received the first shot of the vaccine at mass vaccination site, 
you will be able to receive your second shot at the same mass vaccination site
even if it passed Oct 10.  
If you wish to receive your first shot of the vaccine after Oct 11 (Mon.),
please make a reservation at
a medical facilities for an individual vaccination.  
[List of medical facilities]
[How to make a reservation]
At the moment, those who are aged 12 and
above are able to make the reservation. 
※Reservation starting dates had been planned to be notified by postcards to all.
However, please note that the postcards will not be sent to people aged 49 and under.
The vaccination tickets (coupons) will be posted to those who are turning age 12
on their birthday.
NOTE: A parent needs to accompany the child, when the child under the age of 16 is vaccinated.
○Please be warned that if you are late to your reservation time,
   then your reservation would be cancelled.
If you are worried about the vaccination, please be sure to check with
a doctor at your regular hospital / clinic.
Vaccination site
You can make reservation at the clinics and the hospital.
[Individual Vaccination (Hospital and Clinics)]
 Please access from the link below;
    ⇒ List of hospitals where vaccinations are available
New reservations for Group Vaccination have closed.
・Vaccinations will be given every Wednesday, Thursday, Saturday, and Sunday.
【Name of the Sites

】

【Local Address】

Culture Center

1-1-2 Nekozane, Urayasu City

Chuo Public Hall

4-18-1 Nekozane, Urayasu City

Tomioka Public Hall

3-1-7 Tomioka, Urayasu City

Hinode Public Hall

4-1-1 Hinode, Urayasu City
How to Make a Reservation
【Reservation by Phone】
Urayasu City Novel Coronavirus Vaccine Call Center
 TEL: 047-707-2936(English, Japanese)
 Consultation Hours:  8:30 a.m. ~ 5:00 p.m.
【Online Reservation】 ⇒ How to make the reservation by online
Pre-vaccination Screening Questionnaire for COVID-19 vaccine
in foreign languages
About the Vaccination
・ The government has announced that all citizens (age 16 and over) will be vaccinated
    against the new coronavirus free of charge in order to reduce the risk of loss of life
    and health, medical burden and socioeconomic stability.
・A prior reservation is required for the vaccinations.
・Vaccination is optional. It is not forced on those who do not wish to be vaccinated.
・Those who are ill or in poor health should consult with the doctor at their regular clinic
 before deciding whether or not to receive the vaccinations.
・Please check the following website for details:
   Urayasu City HP 
   https://www.city.urayasu.lg.jp/fukushi/yobou/kansen/1028485/1032295.html
What You Will Need to Make a Reservation
●The followings are needed when you make a reservation:
 ・Vaccination ticket (10-digit ticket number)
 ・Name
 ・Date of birth
 ・Telephone number
●Things to keep in mind when making a reservation:
 ・Two doses of the vaccine are required.
  The second dose will be given 19 to 21 days after the first vaccination.
 ・Reservations need to be made for both doses.
 ・If you wish to cancel a reservation, please do so at least two days in advance.
 ・For the change of the schedule, you must cancel all your reservations once and
  make the reservations anew again.
●Please go to the vaccination site on the reserved date and time.
  ・Measure your temperature in the morning and fill out the vaccination checklist.
  ・Otherwise, you can download a preliminary medical checkup form in your
   native language from the website below, fill it out and bring it with you.
Vaccination Checklist and COVID-19 Vacctination Information Sheet in
foreign languages are available at the following website of Urayasu International Center.
◎Vaccination pre-examination and Information Sheet
   https://urayasu-ic.jp/covid-19-medical-preexamination-sheet/
【What to Bring】
・Vaccination ticket (coupon), Resident card,
 Vaccination Checklist (or the downloaded preliminary medical checkup form.)
【What to be kept in mind when receiving vaccinations】
・Please wear your mask.
・The injection will be given on the arm under the shoulder.
 Please come with clothes that could show your shoulders easily.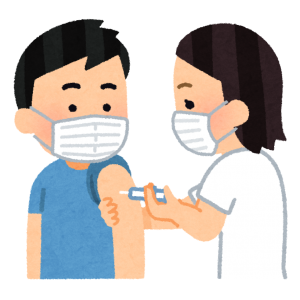 ・Those who have a fever of 37.5℃ or higher are not able to receive the vaccination.
・If needed, please come with someone who could help you with the Japanese language.
【After the vaccination】
・After vaccination, you may feel pain at the injected area, might have fever or a headache.
 It will usually go away in a few days.
・Please avoid exercising a lot or drinking a lot of alcoholic beverages on the day you are vaccinated.
Related Links about Novel Coronavirus Vaccination 
・Prime Minister's Office of Japan 
・NHK World-JAPAN
1,066 total views, 1 views today