About Novel Coronavirus Vaccination
Information on COVID-19 Vaccination for the year 2023.
In the year 2023, COVID-19 Vaccination is available in spring and autum.
[Who can be vaccinated in spring]
A person who has received two or more doses of vaccine and who meets the following criteria;
 1. Persons 65 years of age or older
 2. Persons between 5 and 64 years of age with underlying medical conditions
 3. Hospital Workers
Those who do not meet the above criteria can be vaccinated once in the fall.
[

About the Vaccine Tickets (Coupons)]
You can make an reservation when you receive your vaccination ticket.
It must have been 3 months since the last vaccine.
Vaccination should be done by August 31.
[Locations where vaccinations are available (from May 9th.)]
Group Vaccinations(Mass Vaccinations)

 ・Moderna Vaccine is available.
 ・Vaccination is not available for 5 to 11 year olds at this site.
 ・Available on every Tuesday, Wednesday, Thursday, Saturday, Sunday.
 ・In June, Wednesday, Thursday, Saturday, and Sunday.

Place of Group Vaccination
Name: Urayasu Vaccination Center
Add: 4-1-1, Hinode (Next to Takasu Public Hall)
Reception Hours
 ・9:45 a.m. to 12:30 p.m.
 ・1:45 p.m. to 4:15 p.m.
※If you are late for the time above, it will be cancelled.
 Individual Vaccinations (Clinics or Hospitals at Urayasu)
Vaccinnation for 5 to 11 years old
Urayasu City has started vaccinating 5- to 11 years old with COVID-19 at individual hospitals.
Vaccination is not forced. Can be vaccinated with parental consent.
・The first and second vaccination tickets have already been sent to your homes.
・The third vaccination ticket will be sent in order.
If you would like to be vaccinated, please take the vaccination at the hospital listed below.
[Reservations through the website or Vaccine Call Center]
 Web site: https://urayasu.hbf-rsv.jp/
 Vaccine Call Center: 0120-151-670
○Matsumaru Shonika Allergology Clinic
 Avaliable: 1st,2nd and 3rd Vaccine
   Add: Kitasakae 1-3-34, Grandeur Minesaki 201
   TEL: 047-390-0065
○Shin-Urayasu Kodomo Clinic
   Avaliable: 1st,2nd and 3rd Vaccine
   Add: Irifune 4-1-1, Shin-Urayasu Chuobiru 2F
   TEL: 047-304-0888
○Yosino Clinic
   Avaliable: Only 3rd Vaccine
   Add: Imagawa 4-2-33
   TEL: 047-351-2370
○Ohisama Clinic
   Avaliable: Only 3rd Vaccine
   Add: Akemi 4-1-1
   TEL: 047-350-8021
[Call the hospital directly to make a reservation]
○Urayasu Herat Kodomo Clinic (Available only to family patients)
   Avaliable: 1st,2nd and 3rd Vaccine
 Add: Todaijima 1-4-1 Daiichi Nishiwakibiru 2F
   TEL: 047-390-8010
○Shin-Urayasu Clinic
   Avaliable: 1st,2nd and 3rd Vaccine
 Add: Mihama 3-1-5
   TEL: 047-355-8511
How to Make a Reservation
【Reservation by Phone】
Urayasu City Novel Coronavirus Vaccine Call Center
 TEL: 0120-151-670(English, Japanese)
 From 8:30 a.m. ~ 5:00 p.m. (Inculude Sat., Sun. and National Holidays)
【Online Reservation】 ⇒ How to make the reservation by online
Click here for Pre-vaccination Screening Questionnaire for COVID-19 vaccine
in foreign languages
※The written content is the same as that of the first and second vaccination.
About the Vaccination
・A prior reservation is required for the vaccinations.
・Vaccination is optional. It is not forced on those who do not wish to be vaccinated.
・Those who are ill or in poor health should consult with the doctor at their regular clinic
 before deciding whether or not to receive the vaccinations.
・Please check the following website for details:
   Urayasu City HP 
   https://www.city.urayasu.lg.jp/fukushi/yobou/kansen/1028485/1032295.html
What You Will Need to Make a Reservation
●The followings are needed when you make a reservation:
 ・Vaccination ticket (10-digit ticket number)
 ・Name
 ・Date of birth
 ・Telephone number
●Things to keep in mind when making a reservation:
 ・If you wish to cancel a reservation, please do so at least two days in advance.
●Please go to the vaccination site on the reserved date and time.
  ・Measure your temperature in the morning and fill out the vaccination checklist.
  ・Otherwise, you can download a preliminary medical checkup form in your
   native language from the website below, fill it out and bring it with you.
Vaccination Checklist and COVID-19 Vacctination Information Sheet in
foreign languages are available at the following website of Urayasu International Center.
◎Vaccination pre-examination and Information Sheet
   https://urayasu-ic.jp/covid-19-medical-preexamination-sheet/
【What to Bring】
・Vaccination ticket (coupon), Resident card,
 Vaccination Checklist (or the downloaded preliminary medical checkup form.)
【What to be kept in mind when receiving vaccinations】
・Please wear your mask.
・The injection will be given on the arm under the shoulder.
 Please come with clothes that could show your shoulders easily.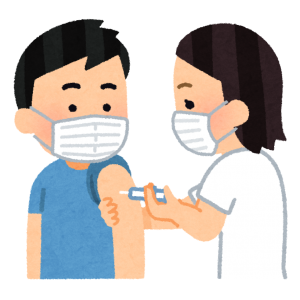 ・Those who have a fever of 37.5℃ or higher are not able to receive the vaccination.
・If needed, please come with someone who could help you with the Japanese language.
【After the vaccination】
・After vaccination, you may feel pain at the injected area, might have fever or a headache.
 It will usually go away in a few days.
・Please avoid exercising a lot or drinking a lot of alcoholic beverages on the day you are vaccinated.
Related Links about Novel Coronavirus Vaccination 
・Prime Minister's Office of Japan 
・NHK World-JAPAN
2,652 total views, 2 views today