【Activity Report】【Feb.18.2018 (SUN)】"English Cooking Class for Parents and Child" (Mexican Food)
【Report】"English Cooking Class for Parents and Child"
Date/Time: FEB.18th.2018(SUN) 10:00~13:00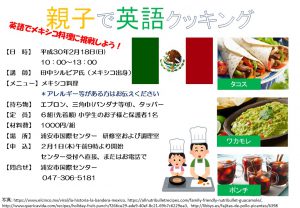 On Feb.18th, we held an event "English Cooking Class for Parents and Child".
6 elementary school children and their parents living in Urayasu participated.
Our teacher was Ms. Silvia Tanaka who is a teacher of "Bees English Club",
an English class for pre-school children.
This time, we cooked Mexican food such as Tacos, Guacamole and Fruit Punch.
"Tacos" is a national food for Mexicans. We wrap many kinds of fillings in Tortilla which is made from flour and corn flour. It is  just what rice balls are to Japanese.
In this event, we cooked chicken tacos.
"Guacamole" is an avocado based dip with onions, tomatoes, lime juice and all sorts of things. It is eaten with the fillings for tacos.
"Fruit Punch" is warm drink, made with fruits and dry fruits cooked with hibiscus tea.
After we checked the recipes, it's time to start cooking!
Ms. Silvia showed how to cook first, then children and parents started cutting fruits and vegetables. They were all very good at it!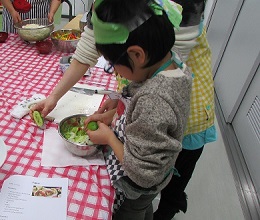 At last, we tasted them! They were all very tasty and delicious.
Throughout the lesson, Ms. Silvia explained all in English. However, since it was with demonstration, everyone cooked very well.
From the participants, we heard that the event was fun for both children and parents and also the whole process of cooking was very fun for them.
We are thinking about having another fun event for children and parents in the near future.
For those who joining in this event, thank you for your participation and we look forward to seeing you again!
[Date] 18.Feb.2018 10:00-13:00
2,187 total views, 3 views today