【Report】【2017 February 18th 】Music Concert of Ukrainian Traditional Instrument "Bandura".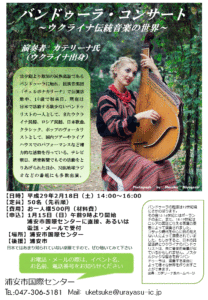 We provided a music concert of the Ukrainian Music instrument "Bandura" on Saturday, February 18th.
Kateryna from the Ukraine was the performer, and she gave a hugely successful concert to an audience of 50 people.
【Date & Time】February 18th 2017  14:00-16:00
【Place】Urayasu International Center
Firstly, Kateryna introduced her home country, the Ukraine, then she played the "Bandura", singing with her beautiful voice. In the first half of the concert, she played songs from the Ukraine, and in the second half she performed Japanese songs. The audience was totally intoxicated with her clear voice. Her Bandura has 63 strings and it weighs 8 kilograms. On the other hand, the weight of the Bandura case is 2 kilograms. She says she is accustomed to carrying 10 kilograms by herself.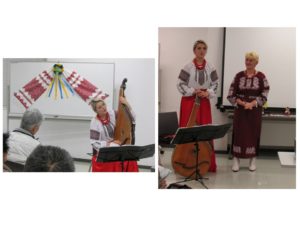 During the break, we served a refreshment, a cake that was made by Kateryna's mom! She has been staying in Japan since December, and will stay few more weeks before returning to the Ukraine. Kateryna's mom enthusiastically greeted the audience, and then she sang a Ukrainian song with Kateryna!  Everyone was very happy to hear such a wonderful surprise performance!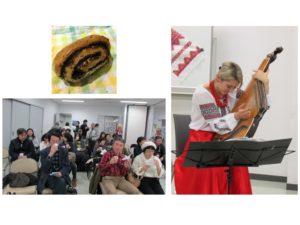 7,010 total views, 2 views today