【Report】Visiting Sudan Embassy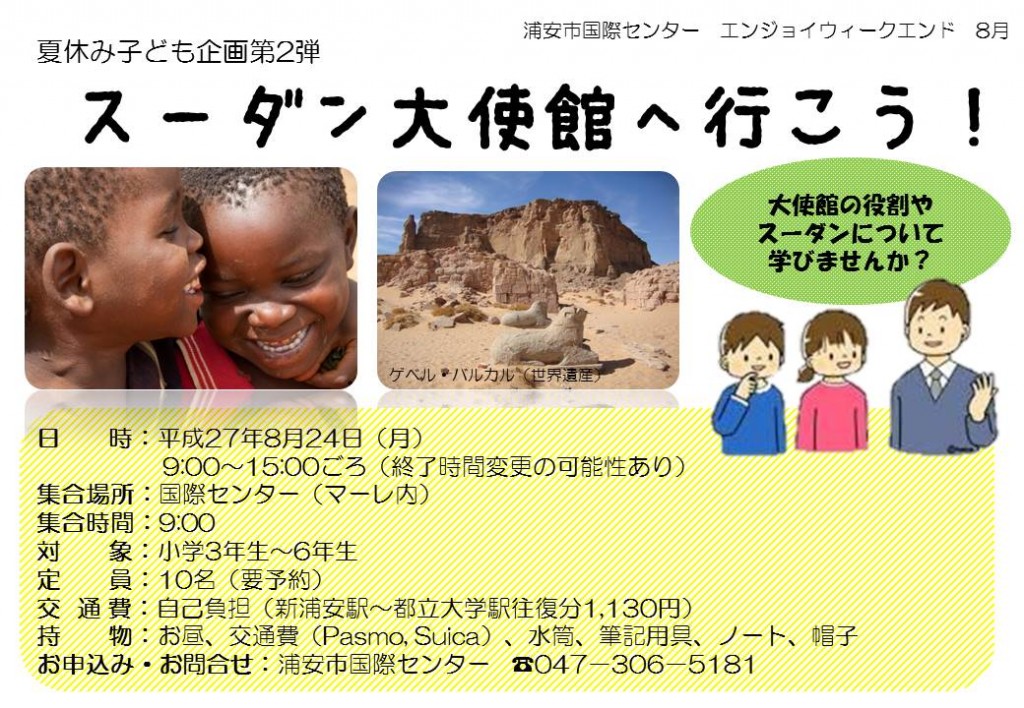 Date: August 24th (Mon)
Place: Sudan Embassy
Participants: 11children in elementary school/ 3 Exchange students from Meikai University/1 Volunteer/2 International Center staff
We visited Sudan Embassy as annual event for children during their summer holiday. On August 24th (Mon), 11 elementary school students came to the International Center and we gave some general information about visiting the Embassy. The national language of Sudan is Arabic, so they learned some simple greetings in Arabic.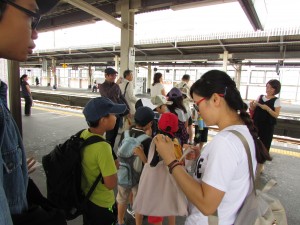 Around 12:00, we left Shin-Urayasu station and headed  for Meguro Ward. We used 3 lines, Keiyo, Hibiya and Tokyu, to get to Toritsudai-mae, the nearest station of the Sudan Embassy.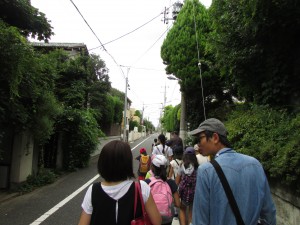 Then it took about 15 minutes from the station to the Embassy, so children felt like it was a long way.
Sudan Embassy is in a quiet residential area and is a very beautiful building. The Embassy staff welcomed us with wonderful smiles but the children became very quiet even though they had talked cheerfully and loudly on the way there.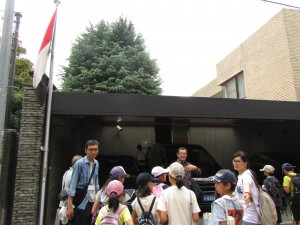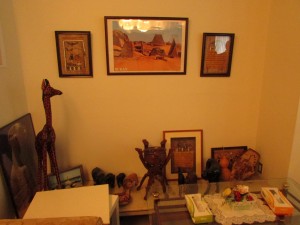 We are in a kind of big cozy living room. It was very spacious. Various Sudan folk crafts are decorated around the room so we felt like we were in Sudan.
One boy said "Actually, are we in Sudan??".
Walking on the beautiful oriental patterned carpet in the hall, one girl was excited and said "I feel like I am in a castle!!"
The Embassy staff prepared hibiscus tea and some sweets for us! For children, it was the first time to drink hibiscus tea so they first sipped it very carefully.
It was little bit sour but delicious!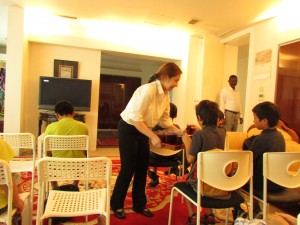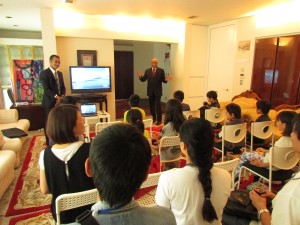 At the beginning, the Sudan ambassador gave us a welcome speech.
"I am so grateful that elementary school children like you are interested in learning about Sudan. Someday please visit our country Sudan!"
We really appreciate that the Ambassador stayed with us whole time.
Next, Mr. Mustafa introduced Sudan to us. He talked about their history, geography, pyramids and archaeological sites. Especially about pyramids we heard a surprising story. When it comes to pyramids we come up with Egypt first, however, pyramids in Sudan are indeed older than those in Egypt.
Also he told us that Sudan has many wonderful places to see such as beautiful red sea and a splendid National Safari Park.
At last, the Ambassador ,Mr. Mustafa and Mr. Mussa(former Ambassador)  wrote the children's names in Arabic. They seemed to be interested in Arabic that are written from right to left.
We believe that it was a really great experience for children during their summer holiday!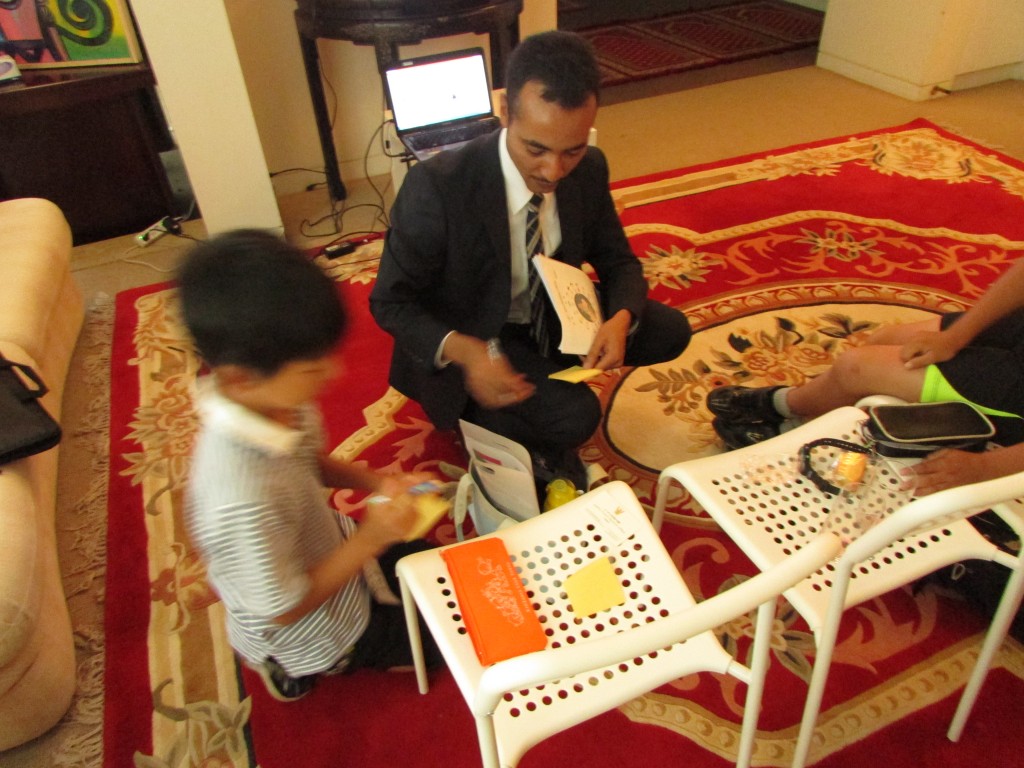 We took some group pictures with good smiles!
Finally, we said "Thank you" in Arabic to everyone and left the Embassy.
We really appreciate that the Sudan ambassador and all the Embassy staff gave us a great opportunity.
Thank you very much for your kindness!!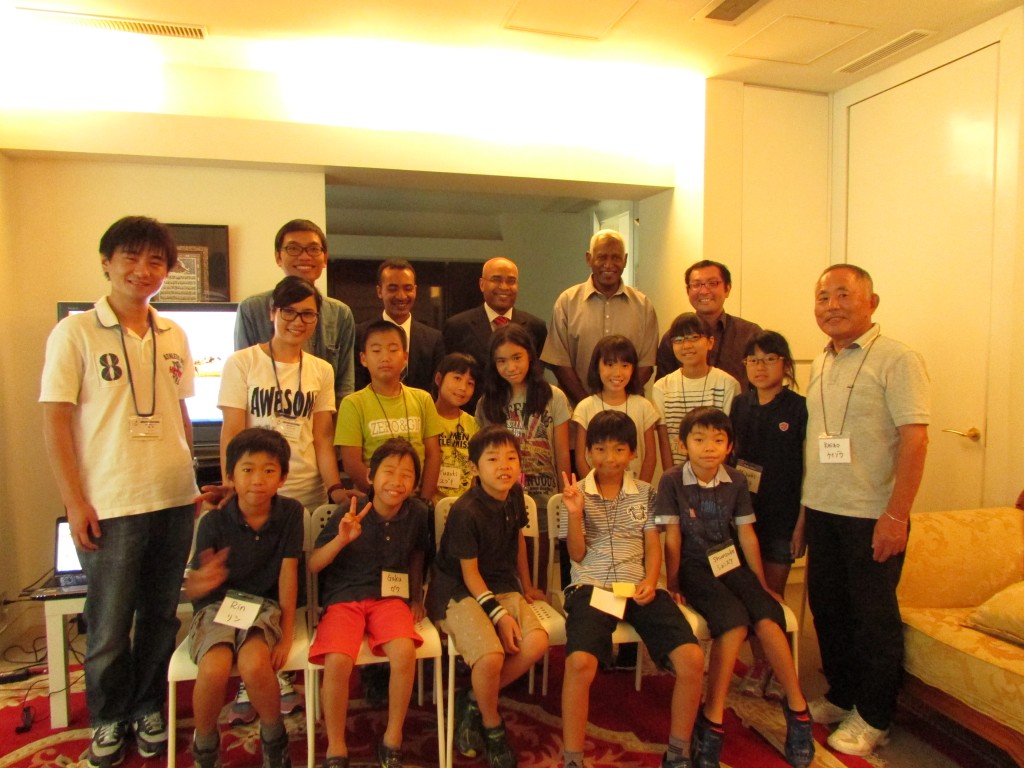 186 total views, 1 views today