【Report】February 7th Sat "Let's cook in English"

【Report】 Let's cook in English
Date: February 7th Sat
Time: 1:00-3:00
Fee : 300 yen
Participants : 12
Menu : Chokladboll / Glogg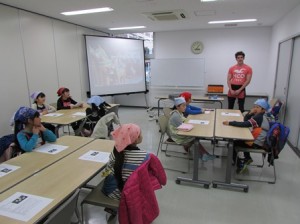 We had a cooking class of Valentine's Day for 1st-4th grade elementary school children. The instructor was Tommy who came from Sweden as a foreign exchange student. He taught us about a Swedish popular sweet named "Chokladboll" and a hot drink named "Glogg". Chokladboll is like a chocolate ball, and Glogg is a hot drink for wintertime with grape juice and some spices.
At first, they introduced themselves in English. They seemed to be shy at first but at least everyone relaxed!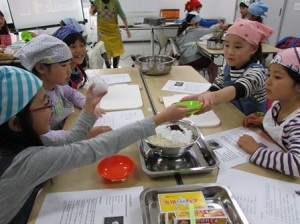 Tommy explained the recipes and distributed the ingredients to them. Let's get start to cook!
They put oatmeal, sugars, cocoa powders and butter into the bowl.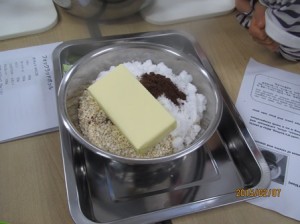 We usually think butter should be cut into small pieces, but surprisingly Tommy instructed that we should just put it into the bowl without doing anything! Looks crazy, right?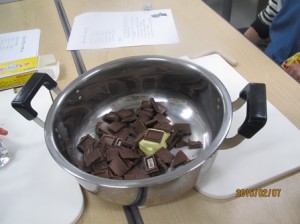 Next, we broke chocolate off into small pieces and melted them with a small amount of butter.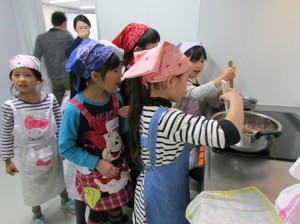 Everyone was so excited to mix chocolate on the stove and they could not wait for their turn. So they decided to make a line and count from 1 to 20 while the other friends were mixing. Cheerful voices made such a positive atmosphere!
They put the melted chocolate into the bowl with the other ingredients, then mixed it with their hands until the ingredients were thoroughly mixed. They really enjoyed it!
For the children, it was so hard to melt the block butter. (We should have cut it into small piece…) They enjoyed it as if they were playing with mud!
After that, they made small balls, dusted them with coconut and chilled them in the refrigerator a while.

At the end, we had quiz time to learn more about Sweden. In terms, they chose the answer from 4 options. They were so excited to discuss each question!
"Which one is Swedish money?"
"Do you know how long the Swedish elementary school's summer vacation is?"
In Sweden, summer vacation is long; about 2 months and the children don't have any homework! When they found this out, they surprisingly said "How lucky!" "I envy them!"
Eating time! The flog balls and grog were so delicious! They brought some Chokladboll home for their family.
Finally, they took pictures with Tommy.
The children had fun and a great experience!

~Voices of the children~
I enjoyed cooking sweets with friends.
I want to learn more about Swedish food.
I had fun with the quiz and mixing ingredients by hand!
~From International Center~
At the beginning they were slightly quiet. However, as they enjoyed cooking and talking with friends, class started to have cheerful and bright atmosphere. We could see that they had a great experience to use English through this event. The children's big smiles made us very happy! We are going to plan some more fun events for kids!
Thank you for joining us!!
112 total views, 2 views today