Free Magazines Giveaway Held In May [May, 21st~26th]
Magazine Giveaway
We are giving away used magazines subscribed from January to December 2017!
One person can get maximum 10 magazines for FREE!!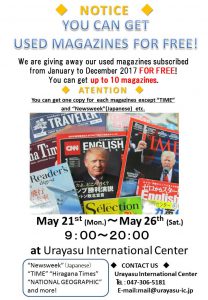 Date: May, 21st ~ May, 26th 2018
Time: 9am ~ 8pm
Place: Urayasu International Center
We are planning to giveaway such magazines; "Newsweek (Japanese ver.)"  "TIME"  "Hiragana Times"  "NATIONAL GEOGRAPHIC"
Please feel free to come!!